The description, "Back to the Light" refers to a sense of my back body, which stands behind me. My spine is supported by this bigger light which is me and appears to be full of rainbow-lit wings and wild dreams. Visionary art comes from within where I contemplate my relationship with myself and the universe.
Back to the Light Visionary Art is generally created on some type of paper. Zarkle-art uses a wider variety of craft materials and is usually three dimensional.
As I flow into the depths of my creative heart, I find the soil of being from which springs a myriad of ideas, images, voices and story concepts. When teaching, I share my art to stimulate imagination, passion and alternative views in my students.
"Uncontemplated relationship lacks the moist, shadowy receptivity which allows for the possibility of True Being"
The Pregnant Virgin – A Process of Psychological Transformation by Marion Woodman (1985)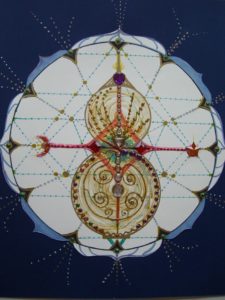 Back to the Light Visionary Art entitled: Creation Vessel
A concept of universal structure inspired by Stephen William Hawking's book, The Universe in a Nutshell.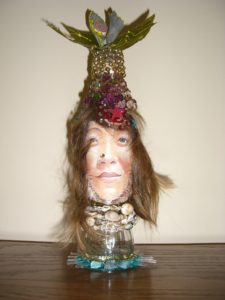 Zarkle-Art entitled: North Star Goddess
Crafted for son, Matthew to draw in the essence and strength of the stars, the sea and the Eskimo tradition. Made on a found coke bottle donated by the ocean with real hair by Char Tara.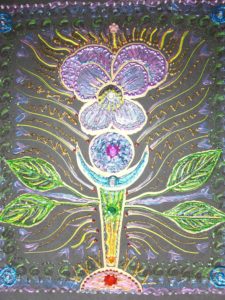 Back to the Light Visionary Art entitled: The Grand Pansy
A fanciful way to visualize the seven chakras and the opening of consciousness.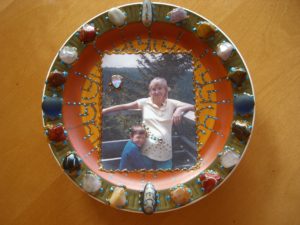 Zarkle-Art entitled: Purely for You
Crafted for son, Matthew for his birthday July 18, 2012.  Photo of Char & Matt with Troy in the belly at Catoctin State Park, Maryland