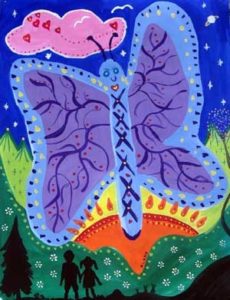 Wow – The Creature Teacher. The butterfly is our mascot. The butterfly grotto is also a symbol of a protective, haven where young innocence can find its wings and mature safely and beautifully into adulthood.  The WOW Butterfly is also a character, a "Creature-Teacher" along with other animals in My Here and WOW Story. 
Wee One Watchers – WOW
Advanced Babysitting & Childcare – ABC
Director & Founder– Char Tara Albert
  772-539-2275 or Email Char Tara  or use the Contact form

An www.InspirationCommunity.org / A Non-profit Project
 What is WOW-ABC? A training program that teaches essential and creative babysitting skills to teens ages 13-19. Our motto is "Teaching teens to teach and reaching teens to reach". The ABC central philosophy pulses with dynamic vitality based on balancing the art of self-discovery, common sense and creative play. 
Wee One Watchers aims to raise the bar of quality babysitting services!
To motivate young teens to consider babysitting and related childcare services as an avenue for achievement of their heart's desire.

To expand upon the sound principles of safe childcare practices combined with creative activities for fun and enrichment.

To teach responsibility, communication skills, respect and teamwork.

Help teens develop fulfilling relationships with children in their keep.

Encourage interaction with the genius within, in both self and others.

To provide an online networking community linking Wee One Watchers to parents seeking dependable, caring & skilled babysitters.



WOW is MOM upside down!
The Need for WOW – Safety and Fun for Child and Teen!
Our young people need stronger societal structures. There are more challenges and negative distractions than ever for youth. Even teens from descent homes may be pulled down into a destructive click to fit in. Teen pregnancy, incidents of meanness, drug abuse and the drop-out rate have become more problematic in the past forty years. In the U.S., traditional childcare practices have changed in the wake of working parents or single parent families. Most caring adults would agree that the communication of important values cannot be sacrificed despite today's fast-paced lifestyle. Wee One Watchers ABC Training is a program which fortifies positive ideals and creates a strong yet creative structure, a tight net, in which teens can incubate safely. We seek to help teens stay in contact with the human root instinct to nurture, teach and protect the young!
Adulthood & Parenthood – Preventing Problems is Best
Preparing for adulthood and parenthood cannot be overemphasized. In the worse case scenario, if young parents go through a total meltdown, grandparents, other relatives or social services take over care of the child. Establishing an awareness and practice of compassionate childcare methods within teens, will encourage all our families and our culture to thrive and flourish with less breakdowns to fix.
Reducing Vulnerability for Parents Hiring Sitters
I am aware of situations where teen "babysitters" were neglectful, abusive or sexually abusive to children in their care. A divorce rate that is over 50% and other modern-day stresses have had a destabilizing effect on basic values and common sense. Hiring a teen trained in Wee One Watchers can give parents peace of mind.
Modern Society's Special Challenges
Now consider our absorption into technological marvels like television, video games and smart phones. Young children tend to copy teens; the same obsessions are multiplied into younger children. Some are so hooked on technology it could be called an addiction. Some babysitters or childcare providers run TV or video game programs for hours a day including during the child's meal time. Absentee-type care sets the stage for problems; the gaps in the normal learning process are filled with messages from the media, be they positive or not. When a parent hires a Wee One Watcher, they can relax knowing their child will be interacted with and cared for.
WOW Teen Training – A Sensible Solution
When we invest our genius into the younger generation, we multiply goodness and reap a new world of happier and healthier people. The time has come for those with practical childcare wisdom to organize a large-scale effort to transmit this wisdom to our young. WOW is one way to create a pipeline for wisdom and a virtual net to protect teens and children. The teen's income and self-confidence are boosted!  
Char Tara Albert
I am a mother and grandmother, a marketing consultant, an inventor, a writer, a natural food chef and a creative breath, yoga and voice teacher.
You can learn more about me here.
The WOW-ABC – Wee One Watchers – Advanced Babysitting and Childcare Training provides education with a very real purpose, on the job training. WOW methods are common senses approaches that use whole learning and experiential group processes to support the teen's development into adulthood, grounded in the art of nurturing self and others, to share and care. It takes a village to raise a child.