In the interest of being succinct, I focused here on those teachers who had the largest impact on the honing of skills that I use today in the healing arts. There are many others whose spirits guided me beginning with my loving and generous parents, Barney and Charlotte. My thanks to all those beings who contributed to my evolution. One of my Star Tracks has been the study of Yoga, which began in 1970 with the discovery of the book Autobiography of Yogi by Paramahansa Yogananda and practicing Kundalini Yoga as designed by Yogi Bhajan. My other major Star Track has been in music and dance.  Lastly, but not expanded upon here, has been my Star Track studying, health, nutrition and food preparation.
Bob Glickstein – Bob began teaching yoga in 1973.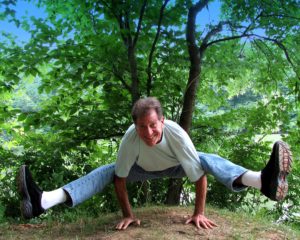 He founded the Yoga Center of Columbia, Maryland where he designed yoga teacher training programs and supported the certification of hundreds of graduates. He specializes in the comprehensive, therapeutic applications of yoga to facilitate well-being for his students. Bob's clear communication style delivered with humor creates a safe, fun and transformative experience for participants. Bob has been an organizer of yoga workshops, vacations and special events. His most influential teachers are B.K.S. Iyengar, John Schumacher, John Friend and Roger Cole. Bob has been my most influential yoga teacher and my longest life partner.
Carla Tara – An intimacy coach utilizing the tantric approach. With an emphasis on breath practices, dance, therapeutic movement and opening to grace.  Carla leads individuals and or groups to the edge where resistance melts into blissful states of being. To me, Carla sets the example of an erotically charged woman standing strong in her power while enjoying life.
Cindy Dollar – Iyengar certified teacher who formerly offered yoga teacher training along with Lillah Schwartz, where I received my training. She is a yoga author and long-time student of Buddhism incorporating mindfulness practices into her work. Cindy is a bright and pure spirit.
https://retreat.guru/teachers/7517/cindy-dollar
Desiree Rumbaugh – One of the most widely loved yoga teachers on earth! She is funny, potent, profound and unbelievably strong and flexible. She knows how to teach, reach into people's souls and find the yogi in there. Along with Bob Glickstein, I co-sponsored 2 workshops for Desiree in Vero Beach, Florida.
http://www.desireerumbaugh.com/
Elaine Silver – Faerie Elaine is a dear friend, a singer and recording artist, whose music I prefer to sing over any other due to the fine crafting of the sound, the nature-infused and fairy-lightened lyrics and Elaine's stunningly clear and rich voice. She is a full time metaphysical music minister. Her music is magical, uplifting and captivating. I have helped organize events to promote Elaine and spread her very positive message.
https://www.youtube.com/watch?v=fyoXff7iYao Love and Light to You
https://www.youtube.com/watch?v=HzSOGubomXs + inspirational art of Josephine Wall
Jessica Dibb –  Spiritual Director & Founder of the Inspiration Community. I began my studies with Jessica and community in 1985 in my hometown of Baltimore, during the pregnancy of my second child, Troy. Jessica and community taught me the over-reaching philosophies and practices of an awakened life upon which I live and teach.  Jessica, a long-time expert on the Enneagram, is a faculty member on The Shift Network where she provides online talks and courses. Jessica exemplifies an unusual level of compassion and connection with all life in everything she does.
http://www.inspirationcommunity.org/
http://www.inspirationcommunity.org/teachings/the-enneagram/
https://shift.theshiftnetwork.com/faculty
Jill Purce – Teacher of harmonic overtone chanting, The Healing Voice & sacred rituals. After five days of practice and ritual with Jill in Santa Fe, NM, I evolved a direct relationship with my inner muse of sound healing. Being with Jill felt like an initiation into the deeper mysteries. She offers a special focus on Goddess Tara in her many forms.
Leigh Ann Phillips – Sound healing practitioner, award-winning singer songwriter, lecturer and teacher with a special connection to wild places like the Hawaiian Islands. Leigh Ann brings a celestial light and ephemeral energy to all her creations and connections. I really love her.
http://www.leighannphillips.com/
Lori Grace – Lori runs the nonprofit organization Sunrise Center.  Through Sunrise Center, she also manages Hale Akua Garden Farm, an organic farm and retreat center on Maui.  Other projects include Election Integrity work and Save Our Bay, Save Our Ocean. Lori was a major influence in developing my understanding of how to create group synergy and ecstasy through consciousness raising practices. Lori is an inspired humanitarian, a far-reaching thinker and a loyal friend.
Lillah Schwartz – It was under the tutelage of this master teacher in Asheville, NC that I received my yoga teacher training certificate.  Lillah was trained under B.K.S. Iyengar and family. She teaches correct alignment principles, anatomy, yoga therapy and the deeper, inner wisdom of the tree of yoga's philosophy. Based on my observations after a year's worth of training, Lillah's vast knowledge of how to heal the human body with yoga places her amongst the top yoga experts on the planet today. Everything she offers is top quality.
http://lillahschwartzyoga.com/
Nikolay Oorzhak – Hereditary shaman from Tyva, Master of throat singing and overtone chanting. My three-day workshop with Nikolay solidified my understanding of how to produce polyphonic tones in my body and the embodiment process using the voice.
http://www.shamanportal.org/display_details.php?id=111&category=resources  https://www.youtube.com/watch?v=ARoCdpbdNrk
Roger Cole, Ph.D. – An internationally recognized, certified Iyengar Yoga teacher and an accomplished scientist educated at Stanford University and the University of California in the science of relaxation, sleep and circadian rhythms. I have studied in-depth with Roger numerous times. His approach is grounded in science yet peppered with his years of practice, teaching and his many personal experiences learning yoga directly from B.K.S. Iyengar. Bob Glickstein and I also brought him to Vero Beach twice for workshops.
http://rogercoleyoga.com/video/roger_cole_yoga_video.htm
Silvia Nakkach – A renowned vocal artist, recording producer, sought after educator and author. Silvia manifests the cosmos through the yoga of her sound. The exotic quality of her message and the enchanting nature of her voice moved and inspired me to bring forth my own unique methods. Silvia is founder of CIIS Public Program & Performances where one can take a course and receive a Certificate in Sound, Voice, and Music in the Healing Arts.
Shamanic Chanting – Singing to Induce Extraordinary States of Consciousness
Here are examples of shamanic-style chanting which includes harmonic overtone techniques in which I am trained. These vocal practices stimulate extraordinary states of consciousness and are thought to activate the pineal gland, which according to yoga, opens the 7th chakra, the portal to Ananda, or the bliss body. Here are examples of styles and traditional uses.
https://www.youtube.com/watch?v=7zZainT9v6Q&list=RD7zZainT9v6Q&t=32
https://www.youtube.com/watch?v=qx8hrhBZJ98&index=2&list=RD7zZainT9v6Q
https://www.youtube.com/watch?v=2lnxs_DMUDk&list=RD7zZainT9v6Q&index=4