The Beyondarian Chronicles by Char Tara Albert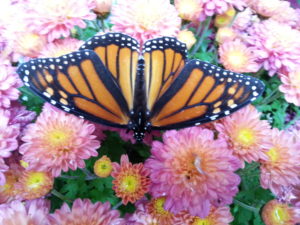 These kitchen-made fiction books, artistically depict one family's journey to root down into the earth while living life as an ecstatic and abundant adventure. Full of exciting imagery, color and spiritual succulence. Bursting with fun and wisdom!
I write and illustrate stories to heal, integrate and draw forth the pearls of joy and wisdom from the great mystery. My life appears to be full of hidden forces, inner voices and interesting events.  This is how I allow my imaginings to turn into real things.  This is my Fairy-lit path. If you feel so moved, please join me. Workshops (for adults) and playshops (for the entire family) further tell the story by communing with others.   
Book 1: Return of the Fairy Nation – Restoring Our Telepathic Communion with Nature Spirits
Workshop: Arousing the Sun's Potential ~ Feeling Groovy with Natural Light
Book 2: Cup of Galaxy – Where Strings and Things Turn into Fairy Blood Wings
Playshop: Building a Yoga Tree House – Family-oriented– Create a Tree of Yoga Coloring Book – learn via the natural world to root down and rise upwards. Experiential way for families to explore the 8-fold path of yoga by practicing Animal Crackers Yoga and hand-crafting family treasure books. Visit the Garden of Wow & color your own tree.
Book 3: Fairies at Play – Sitting Pretty with Creative Breath
Practice: Meditative Flight Plans at the Hearth of Destiny
Book 4: The Flower Blessing Way – Giving Voice to Fairy Wisdom
Workshop: Yoga the Flower Blessing Way –Rise & Shine Vinyasa Practice + Song to the 12 Sun Gods
Surya Namaskar Mantras (Sun Salutations) [on YouTube]
"Sun, a form of un-manifest Parbhram… feel its light and power enter your soul as in this video I focused more on direct super causal and spiritual aspect of sun salutation and its energy instead of physical yoga part… through the pictures and vibration of special mantras, one can feel its radiance of light and warmth illuminating your soul."
Book 5: Dharma Knock-knock – Participating Fully in the Fairy Garden of Wow – Red Book
Book 6: Have Lily Will fly – Tapping into the Fairy Queendom – Orange Book
Book 7: Waltzing the Cosmos on Earth – Pranzing Shiva Shakti Now and Wow  – Yellow Book
Workshop: The Dating Mating Game in a Waltz Workshop with Yoga Warm-up
Book 8: Freeing Fairy Formulas – Feeling Fabulous with Flower Power – Green Book
Book 9: Telling Star Dreams – Opening the Fairy Queen's Voice – Sky Blue Book
Book 10: Cloak of the Beyondarians – Ephemeral Fairy Beings in the Reel  – Royal Blue Book
Book 11: Children of Star Children – Allowing Golden Light 2 Break Through – Purple Book
Book 12: Fairy Genius in the Wake – Riding the Rainbow in the Face of It All – Fuchsia Book

Book 13: Dragoness Energy Upon the Sea – The Retooling of Oceanic Fairy Bliss – Rainbow Book

Book 14: Tree of Fairy, Tree of Light – Remembering the Doorway – Silver Book

Book 15: Sunflower Dancz – Where Fairies Play in Organic Innocence – Gold Book
Book 16: The Fairy Ethereum – The Bazaar Where Enlightened Souls Shop
Book 17: How to Love the Fairy Good Mother – Relishing the Wild, Weird, Wondrous She
Book 18: The Growth Force – Socializing Up the Spiritual Mountain Fairy Style
Book 19: Notes from the Fairy Guidebook – Bonding Together to Enter the Inner Queendom
Book 20: Flirtatious Rhymes to Warm the Soul – Playing the Fairy-blessed Way
Book 21: Faery Country – Singing & Danczing with the Magical Earth Keepers
Book 22: The Secrets Books of Rose Zelda – Love-soaked Adorations from Organic Innocence
My Here and Wow Story
Are you interested in attending one of the workshops or playshops described above?
Are you interested in attending a My Here and Wow Story Party where you can sit back and expand your imagination into the richness and beauty of The Beyondarian Chronicles?
Are you interested in participating in a My Here and Wow Story Workshop to learn to use simple art materials to craft your own family treasure books?
Email Char Tara  or use the Contact form
For more information on writing as a healing art see: http://www.narrativemedicine.org/